SportsMatrix Kodi add-on (formerly PureSports) is a sports streaming add-on for Kodi.  It seems like a great alternative to SportsDevil and Sports Hub.
What SportsMatrix Looks Like
Currently, SportsMatrix has an American Sports section, a World Cup section, AceStream section for Live Sports & Channels, and settings.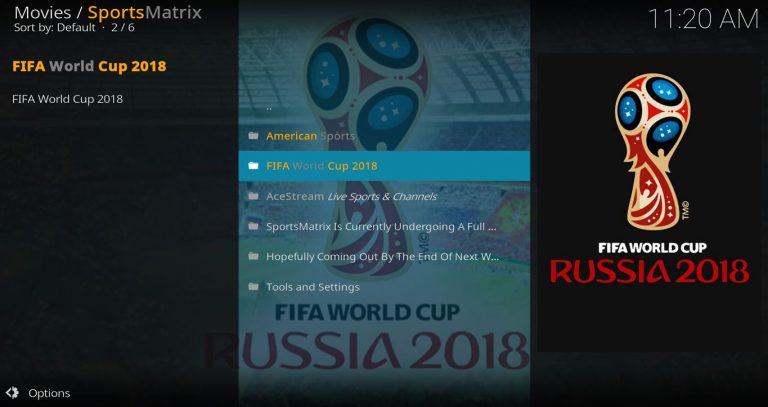 Big Update to SportsMatrix Coming
It also has a couple lines of an announcement that says "SportsMatrix is Currently Undergoing a Full Update & Renovation. Hopefully Coming Out By The End Of Next Week".  I saw that last week too, so I guess the update isn't ready yet.  If you see the new update (newer than version 1.1), let me know in the comments below.  Thanks!
How to Install SportsMatrix's Repository, PureRepo
Go to Settings (cog icon) > File Manager

Select Add Source
Click on the <None> box and type in the URL of the repo server: http://repo.mrblamo.xyz
Give it a name in the box below (name it Blamo)

Now, go to the Add-on Browser screen by clicking on Add-ons on the main menu and then selecting the open box icon at the top.
Go to Install from Zip File > Blamo > repository.PureRepo-x.x.x.zip (x's are just placeholder in case the numbers change)

How to Install the SportsMatrix Add-on From PureRepo
After you have the Blamo repo installed, go back to the Add-on Browser screen and select Install from Repository > PureRepo > Video add-ons > SportsMatrix > Install

SportsMatrix as Part of the Ultimate Kodi Setup
There's so much you can do with SportsMatrix on Kodi, and I recommend you do in order to have to best and most seamless experience.
Checkout my complete step-by-step guide…
The Complete Guide to the Ultimate Kodi Setup
Keep Up-to-Date on Kodi
Thanks for coming to Kinkead Tech to learn how to install SportsMatrix on your Kodi box.  If you enjoy my tutorials, please subscribe to my weekly email.
Kodi Streamers: Remember to Use a VPN
Whether you need to get around your ISP blocking/throttling your streaming, access streams normally not available in your country, or protect yourself from copyright crackdowns, I always recommend Kodi streamers use a VPN.  To learn more, read my 4 Reasons Why Kodi Streamers Need a Kodi VPN.
Having Kodi Streaming Issues?
If you're having any issues with buffering, low quality streams, "no stream available", please check out my list of Troubleshooting Tips for Kodi Streaming Issues.
Any Questions?  Let me know
If you run into any issue when trying to install SportsMatrix, please let me know in the comments below.  I love to help, and if anything changes and I need to update this post, I appreciate you guys letting me know.  Thanks.