The DeathStar Kodi add-on is big all-in-one add-on that brings a lot of add-ons together in one place.
It has a ton of content.  Each of the main menu items is like its own add-on and brings its own flavor and organization, yet many of them share some common sections.
Here is what the main menu looks like.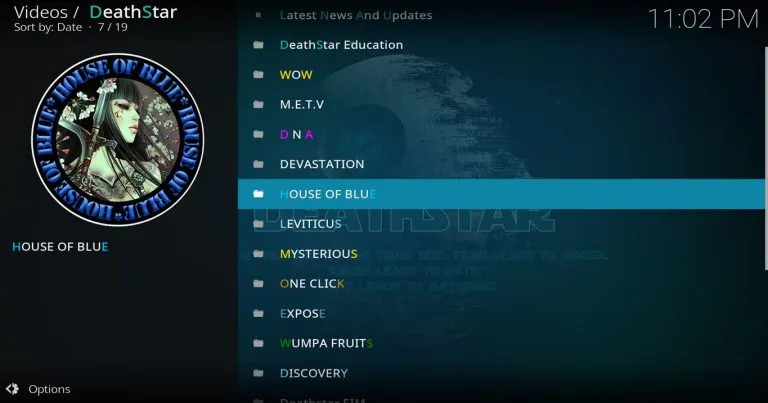 DeathStar Kodi Add-on Details and Status
Last Activity:
Status:
Add-on:
DeathStar
Online
Repo:
EzzerMacs
Nov 1, 2018
Online
File Source:
http://lazykodi.com (Lazy Kodi)
Online
Working?
Other add-ons in the EzzerMacs repo:
How to Install the EzzerMacs Repo from the Lazy Kodi File Source
Go to Settings (cog icon) > File Manager

Select Add Source
Click on the <None> box and type in the URL of the repo server:

http://lazykodi.com

Give it a name in the box below (name it Lazy Kodi)

Now, go to the Add-on Browser screen by clicking on Add-ons on the main menu and then selecting the open box icon at the top.
Go to Install from Zip File > Lazy Kodi > REPOSITORIES > EZZERMACS > repository.EzzerMacsWizard.zip
How to Install the DeathStar Add-on From the EzzerMacs Repo
After you have the EzzerMacs Repo installed, go back to the Add-on Browser screen and select Install from Repository > EzzerMacs Repo > Video add-ons > DeathStar > Install
Any Questions?  Let me know
Thanks for coming to Kinkead Tech to learn how to install DeathStar on your Kodi.  If you enjoy my tutorials, please subscribe to my weekly email.
If you run into any issue when trying to install DeathStar, please let me know in the comments below.  I love to help.  Thanks.